Lhtako Quesnel 2024 BC Winter Games Hires Operations Manager
Quesnel, BC August 28, 2023 – Lhtako Quesnel 2024 BC Winter Games Society has hired Cleo Mills as their Operations Manager. Mills started in her new role in late July.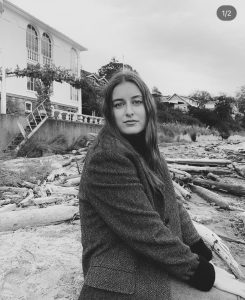 Each Games hires an Operations Manager as their key employee for a period of about 8 months. Mills will support the board of directors in their preparations to make the Lhtako Quesnel 2024 BC Winter Games an event to remember. The Games Office has been established on the second floor of City Hall, within the Forestry Innovation Centre. Additional support staff will be brought onto the team in the months leading up to the Games, as well as up to 2000 volunteers, working to make the Games a success.

Mills grew up in Quesnel and has a degree in Commerce, with a major in marketing and minor in management. She brings project management and marketing experience to the role. Mills shares, "My interest in the Games stemmed from the fact that I was looking to apply the skills that I've gained over the past few years and participate in a Quesnel-based project as a way to contribute to the community."

Brian Balkwill, Lhtako Quesnel 2024 BC Winter Games President states, "The Operations Manager is a demanding role, supporting each of our 14 directorates, and requiring a broad skillset. We're lucky to have found Cleo. She is already proving to be well-organized, versatile, and quick to learn how to support the needs of each of our Directors."

The Lhtako Quesnel 2024 BC Winter Games will be held in Quesnel, on Lhtako Dene Traditional Territory, February 22 – 25, 2024. An estimated 2000 volunteers will be needed to host more than 1800 athletes, coaches, officials, in addition to family and friends who attend as supporters and spectators.

-30-

Media Contact

Amy Reid
Public Relations Chair
Lhtako Quesnel 2024 BC Winter Games
pr@bcwintergames.ca