Kayak Polo
"Fun. Exciting. Crazy. Aggressive." Those were the words Yujin Roh, Benjamin Perry, Micah Gordon, and Joshua Fowlie, all of Prince George, used to describe kayak polo following their first experience with the sport on Sunday at Nadsilnich Lake in West Lake Provincial Park.
"Water-borne rough and tumble" would also be apt.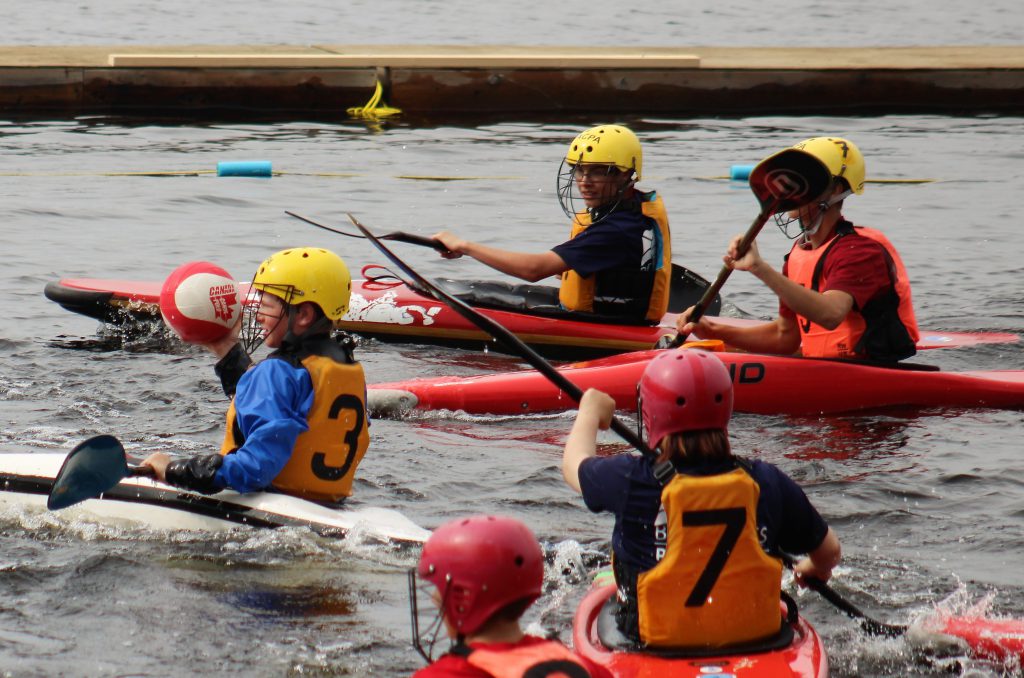 Wearing helmets with metal face guards, paddling in kayaks with rubber bumpers on the ends and using paddles with thick and rounded edges to prevent injury, teams of five work gain control of a ball and score points by throwing it through a 1.5- by-one-metre goal stationed two metres above the water.
There are rules: No striking another player with your paddle and no ramming another boat at a 90-degree angle or hitting another boat's cockpit.
"It's like a bunch of sports at the same time," said Fowlie. "Like kayaking, soccer, basketball."
The four, along with coach Angus Ball, made it as far as the semifinals before losing in sudden death. More importantly, they enjoyed playing the game.
"Mainly the adrenaline rush when you're getting hit by other boats," said Perry when asked to elaborate on what makes the sport exciting.
They also discovered that throwing a ball while inside a kayak floating on water takes a bit of touch and balance. Roh said she learned to use her paddle to counter the momentum that came with a toss.
"You get crashed into a lot, so you need to keep your balance during that," said Gordon.
With the 2022 BC Summer Games ending, the athletes who converged on Nadsilnich have moved on, but the equipment for playing the game – goals, docks and floating boundaries – has not. Instead, it's been left in the care of the Prince George Canoe and Kayak Club.