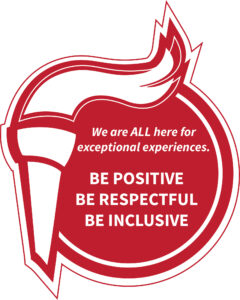 Culture of the Games Principles
The Culture of the Games outlines and describes the expectations of those associated with the Games. This includes policies, codes of conduct, and information that help individuals know what is expected of them.
It encompasses all safety and safe sport aspects of the Games and strives to inspire everyone to consider the roles they play in shaping the Games experience for everyone.
The BC Games Society strives to inspire exceptional experiences by creating a positive, respectful, inclusive, and accessible environment.
The BC Games Society believes that everyone associated with the Games and Team BC:
has the right to participate in an environment that is supportive, positive, respectful, accessible, and that contributes to exceptional experiences
has the responsibility to contribute in a positive way to the experiences of everyone involved in the Games and Team BC
Culture of the Games Course
Prior to attending the Games, participants are required to complete a Culture of the Games module. The online module will take approximately 20 minutes to complete and will cover the key principles of the Culture of the Games and the BC Games Code of Conduct.
Quick Links
Reporting Processes
The Games-time reporting process will be available closer to the Games.
Concerns or issues related to the code of conduct outside of Games-time can be reported:

directly to the BC Games Society President and CEO at ceo@bcgames.org
If you are not comfortable reporting to the President and CEO, contact the National Sport Helpline

Phone or Text: 1-888-83SPORT/1-888-837-7678
info@abuse-free-sport.ca