Alumni
BC Games alumni are achieving athletic success on the world stage every day.  We are proud to have been part of the journey for World Champions, Olympians and Paralympians, Stanley Cup Champions, and Major League Baseball MVPs, to name a few.
Athletes competing for Canada on the world stage began their pursuit of sport through community and provincial sport programs and the BC Winter and BC Summer Games have been a vital step in the journey for many.  This early multi-sport experience provides quality coaching, strong competition, and inspiration to pursue sport to the highest level.
It all starts right here, at the BC Games.
Alumni Database
Find out more about past Games using the "Stats and Facts" section below or find alumni and results from recent Games in "Participant Lists and Results."
Games Facts
First BC Summer Games in 1978 in Penticton
First BC Winter Games in 1978 in Kamloops
2023 marks the 45th Anniversary of the BC Games Society
2024 will be the 33rd BC Summer Games
The 2022 BC Winter Games (in March 2023) will be the 31st BC Winter Games
Over 155,000 volunteers since 1978
Over 110,000 athletes since 1978
60 Games in 40 communities
17 sports in the BC Summer Games
17 sports in the BC Winter Games
Games Stats (Since 2000)
Games

Volunteers

Athletes
Head Coach / Assistant Coach/ Adult Supervisor #s
Officials #s
Links and Facts 
2020 BC Summer Games

Maple Ridge

July 23-26

-
-
-
-
Games cancelled due to COVID-19
2020 BC Winter Games

Fort St. John

February 20-23

2,172

Youngest: 5 Oldest: 87

987
285

14 pairs of Mentor/Apprentice coaches (karate, judo, ringette, rhythmic gymnastics, curling, ringette, speed skating)

191

15 sports
WR Bennett Award recipient: Benjamin Konwicki (Speed Skating)

2018 BC Summer Games

Cowichan

July 19-22

2,155

Youngest: 5
Oldest: 88

2,387
442

8 pairs of Mentor/Apprentice coaches (basketball, triathlon, lacrosse, softball, equestrian)

 320
 2018 BC Winter Games

Kamloops

February 22-25

1,951

Youngest:  8
Oldest: 86

1,218
 336

12 pairs of Mentor/Apprentice coaches (archery, ringette, badminton, gymnastics, rhythmic gymnastics, speed skating and judo)

 217
 2016 BC Summer Games

Abbotsford

July 21-24

2646

Youngest: 7

Oldest: 97

 2415

Average age: 14.2

474

7 pairs of Mentor/Apprentice Coaches (Swimming, Volleyball, Softball, Wrestling)

354
 2016 BC Winter Games

Penticton

February 25-28

 1923

Youngest: 6

Oldest: 90

 1203

Average age: 14.2

328
196
 2014 BC Summer Games

Nanaimo

July 17-20

 2946
2414

Average age: 14.2

492S
276
2014 BC Winter Games

Mission

February 20-23

 1745
1300

Average age: 14.6

344
 203

2012 BC Summer Games

Surrey

 

July 19-22

2850
2301

Average age: 14.8

474
304

18 sports
Sport Package
News Stories

2012 BC Winter Games

Greater Vernon

 

February 23-26

2210
1124

Average age: 13.6 Male/female ratio 62:38

286
167

2010 BC Summer Games

Township of Langley

 

July 22-25

2599
2462

Average age: 14.2

male/female ratio 42:57

513
365

2010 BC Winter Games

Terrace

 

March 4-7

 1797
1075

Average age: 13.8

male/female ratio 63:37

279

male/female ratio 42:58

190

2008 BC Summer Games

Kelowna

 

July 24-27

2562
2127

Average age: 14.2

426
223
2008 BC Winter Games

Kimberley-Cranbrook

 

February 21-24

3033
1411

Average age: 14.5

346
207

2006 BC Summer Games

Kamloops

 

July 27-30

3246
2239

Average age: 14

478
284
2006 BC Winter Games

Greater Trail

 

February 23-26

3110
1417

Average age: 14.5

346
189
2004 BC Summer Games

Abbotsford

 

July 15-18

3639
2410

Average age: 15

458
258
2004 BC Winter Games

Port Alberni

 

February 26-29

3212
1461

Average age: 15

358
218
2002 BC Summer Games

Nanaimo

 

August 1-4

4271
2632

Average age: 16

472
266
2002 BC Winter Games

Williams Lake

 

February 21-24

3100
1530

Average age: 17

377
244
2000 BC Summer Games

Victoria

4129
2932

Average age: 19

484
319
2000 BC Winter Games

Quesnel

3385
1599

Average age: 19

328
214
What We Do With Your Information
Click here for the complete waiver.
Participant information is collected under the authority of the BC Games Society.  The information provided will be used to determine eligibility to participate in the BC Summer or BC Winter Games.  On confirmation of eligibility the information will be used to arrange liability insurance coverage to address any claims arising from the voluntary participation of registered participants in the BC Summer or BC Winter Games.  The name, hometown, sport, and results of registered participants will be provided to media outlets and available on the BC Games Society and the Host Society for each BC Summer and  BC Winter Games Society websites for the purpose of acknowledging selection for participation and placing.  The names, addresses, email addresses, phone numbers, results, and/or images of registered participants may be used in non-commercial promotion/development of sport and/or the BC Summer and/or BC Winter Games or the BC Games Society.  The names, addresses, email addresses, phone numbers, results, and/or images of Games participants may be provided to the Premier and/or the Minister responsible for the Games, and/or to members of the legislative assembly, and/or to local members of parliament, and/or to the media for the purposes of recognition, and/or to a local municipal volunteer agency or department and/or to BC Games sport partners for the purpose of recognition and/or informing of sport-related and/or training opportunities and/or to school principals and/or school district superintendents for the purpose of recognition and acknowledgement. For questions about the collection and use of this information, please contact the BC Games Society at 200 -990 Fort Street, Victoria, BC V8V 3K2 or (250) 387-1375 or info@bcgames.org.
Olympic and Paralympic Tradition
We are proud to have a long tradition of BC Games alumni representing Canada on the world stage, including at the Olympic and Paralympic Games.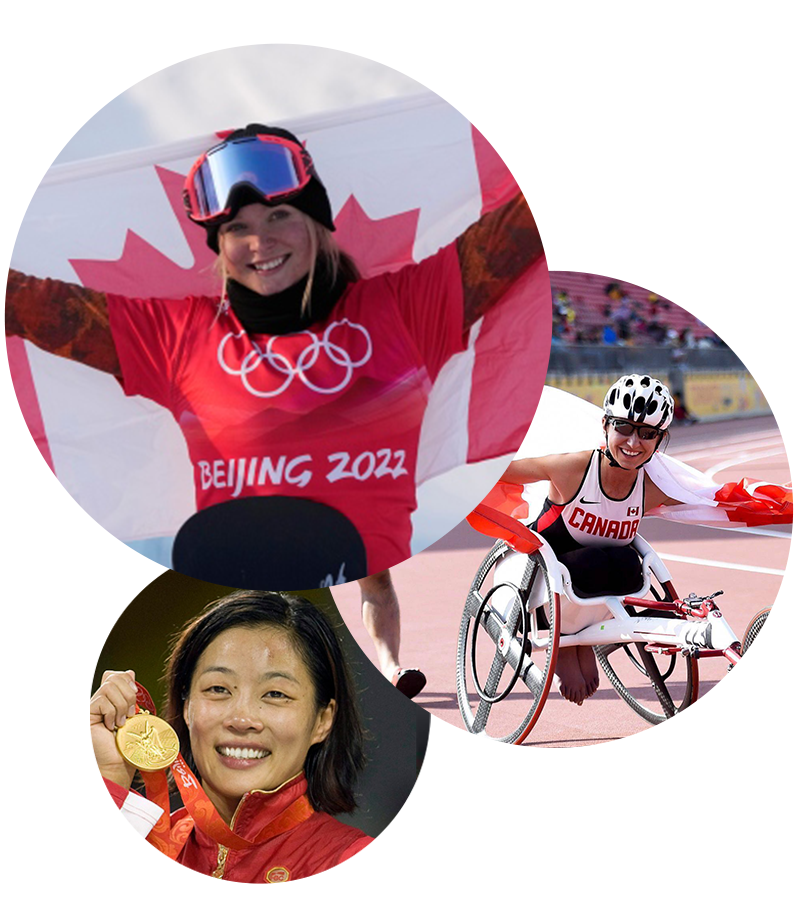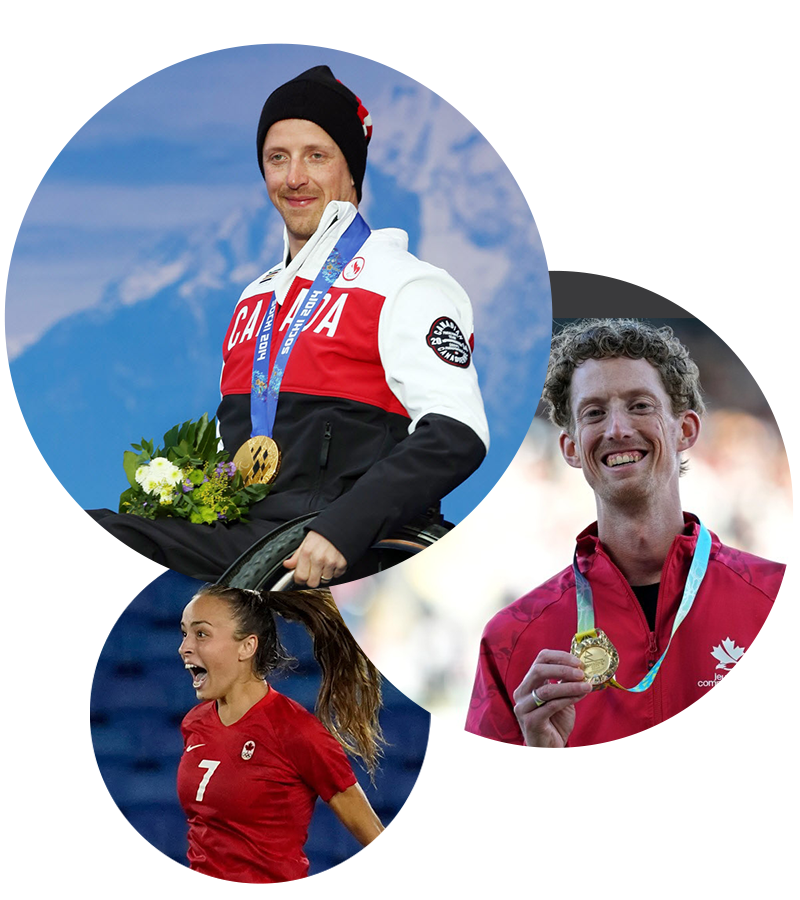 Featured Alumni
For many of BC's top athletes, the BC Games was their first multi-sport Games experience. Meet some of our featured alumni below.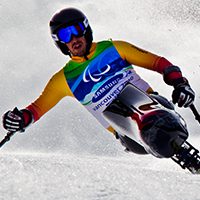 Josh Dueck, Para Alpine
2006 BC Winter Games
Two-time Paralympian
2010 Paralympic Silver Medallist
2014 Paralympic Gold and Silver Medallist
First sit-skier to complete a back flip on snow
2010 and 2014 Paralympic Medallist
2006 BC Winter Games
Born in the rural town of Kimberley, BC, Josh lived and breathed the outdoors. He learned to ski at the age of 13, joining the BC Freestyle Ski Team. Although he dreamed of becoming an Olympian, financial restraints redirected him to coaching aspiring skiers.
In 2004, Josh was demonstrating a jump and sustained a spinal cord injury that paralyzed him from his waist down. After a strenuous rehabilitation process, he found his love for skiing again through para alpine skiing, and competed in the 2006 BC Winter Games.
Josh went on to get a silver medal in slalom at the Vancouver 2010 Paralympic Games, gold in super combined and silver in downhill at the Sochi 2014 Paralympic Games. He was the flag-bearer at the Sochi Games closing ceremony. Along with his success at the Paralympics, Josh won gold in mono skier X at the Aspen Winter X Games in 2011, was the downhill world champion at IPC World Championships, and is an eight-time national champion.
Josh continued to prove his greatness by becoming the first sit-skier in the world to complete a backflip on snow, leading him to an appearance on the Ellen Show. He has since retired from competition but continues to advocate accessibility in sport and outdoor adventure opportunities for people with disabilities as the vice-president of the Live it! Love it! Foundation.
Check out Josh's website joshdueck.com, the Live it! Love it! Foundation website liveitloveit.org, and follow him on Twitter @justdueck.
Photo credit above: paralympic.ca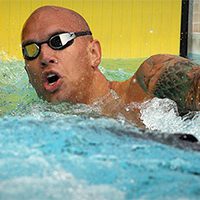 Brett Hayden, Swimming
1998 BC Summer Games
Three-time Olympian
2012 Olympic Bronze Medallist
2001 Canada Summer Games
2001 Canada Summer Games
2012 Olympic Bronze Medallist
1998 BC Summer Games
Mission BC's Brent Hayden was involved in many sports as a child but swimming was always an important part of his life.  In Grade 3, each student in Brent's class was asked to stand up and state what they wanted to be when they grew up. Brent actually stood up and said "I want to swim in the Olympics!"
After a trip to the 1998 BC Summer Games in Ridge Meadows, Brent made the commitment to swimming switching from the summer swim program to train year round with the Chilliwack SpartanA 10 year veteran of the National Swim Team, Brent had success on the world stage starting with the 2002 Commonwealth Games.  He was co-World Champion in the 100m in 2007 and throughout his career earned five World Championship medals.  Brent competed at three Olympic Games with the pinnacle coming at the London 2012 Olympic Games where he won a bronze medal for Canada.
"The BC Summer Games was the point in my career when I realized that I had the potential to go further.  It wasn't till soon after that that I decided to switch from being a summer swimmer to training all year round.  It is clear that I wouldn't have noticed my own potential without the BC Summer Games."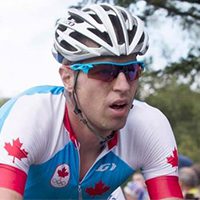 Ryder Hesjedal, Cycling
1995 BC Summer Games
Three-time Olympian
2012 Giro D'Italia Champion
2004, 2008 and 2012 Canadian Olympic Team
2012 Giro d'Italia Champion
1995 BC Summer Games
Victoria's Ryder Hesjedal, began his cycling career by riding his bicycle on local trails around his neighbourhood. He discovered his love of racing, and his journey to success took off after participating in the 1995 BC Summer Games.
As a 12 year old athlete, Ryder credits the BC Games as his "first real success on the road bike."  His first competition at the Games was in mountain bike when a broken chain ended his race.  The following day, he gathered up his strength and determination to take home the gold in the road race.
"I fell in love with the sport and its what I have done ever since I was 12 years old at the BC Summer Games."
Among many achievements, Ryder competed in the 2004, 2008 and 2012 Olympic Summer Games.  He came sixth in the 2010 Tour de France, and won the 2012 Giro d'Italia, making him the first Canadian to win one of cycling's three Grand Tours. Ryder is the spokesperson for a non-profit organization, the Ryder's Cycling Society of Canada, which puts on the Tour de Victoria. This community cycling event was established to promote and support cycling and its health and environmental benefits to Canadians.
Check out Ryder's profile at Olympic.ca, visit his websites ryderhesjedal.ca and ryderscyclingsociety.org, and follow his Twitter and Instagram @ryder_hesjedal.
Photo credit above: Frank Gunn, Canadian Press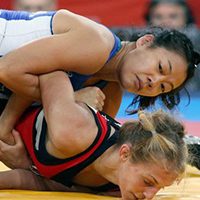 Carol Huynh, Wrestling
1996 BC Summer Games
Two-time Olympian
2008 Olympic Gold Medalist
2012 Olympic Bronze Medalist
2016 Team Canada Assistant Chef De Mission
2008 and 2012 Olympic Medallist
1996 BC Summer Games
Daughter of Vietnamese refugees, Carol was born in Hazelton, BC. As the middle child of five, she grew up with a competitive edge and a love for sports. Watching her sister wrestle on their high school team encouraged Carol to join, and immediately she was hooked. Shortly after, she participated in her first multisport event at the 1996 BC Summer Games.
At the 2008 Beijing Olympic Games, Carol proved her excellence by becoming the first Canadian woman to win an Olympic gold medal in wrestling. She is also a bronze medalist at the 2012 London Olympic Games, 11-time national champion, two-time Pan American Games champion, 2010 Commonwealth Games champion, and four-time world championship medalist.
Carol retired from wrestling after the 2012 Olympic Games, and is currently coaching the junior program at Calgary Dinos Wrestling Club. Among her many successes, she has a master's degree in Counselling Psychology at Athabasca University, and is a United World Wrestling Super 8 Ambassador, encouraging the development of women's wrestling worldwide.
Carol will return to her Olympic roots as the Assistant Chef de Mission for Team Canada at the 2016 Olympic Summer Games.
Check out Carol's profile on Olympic.ca, and follow her Twitter @HuynhCarol.
Photo Credit: Olympic.ca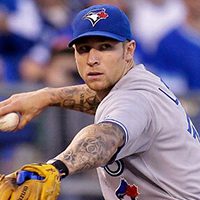 Brett Lawrie, Baseball
2004 BC Summer Games
2008 Olympian
Drafted 16th in Major League Baseball draft
2008 Olympic Team
16th in the 2008 Major League Baseball draft
2004 BC Summer Games
Growing up in Langley, BC, Brett developed a hard working, competitive attitude with the help of his father and sister. In high school Brett played baseball in the 2004 BC Summer Games. Straight out of high school, he was the 16th overall pick in the Major League Baseball draft by the Milwaukee Brewers, making him the fourth-highest a Canadian player has ever been drafted.
Brett was on the Canadian Junior National Team at the 2008 World Junior Baseball Championship, and represented Canada at the Beijing 2008 Olympic Games as the youngest member on the team. His sister, Danielle Lawrie played on the women's softball team during the 2008 Olympic Games as well.
In 2011, at just 21 years old, Brett was called up to play for the Toronto Blue Jays. In 2014, he was traded to the Oakland Athletics, and traded again shortly after to the Chicago White Sox where he is currently playing.
Check out Brett's profile on Olympic.ca, and follow him on Twitter @blawrie13.
Photo: Charlie Riidel/AP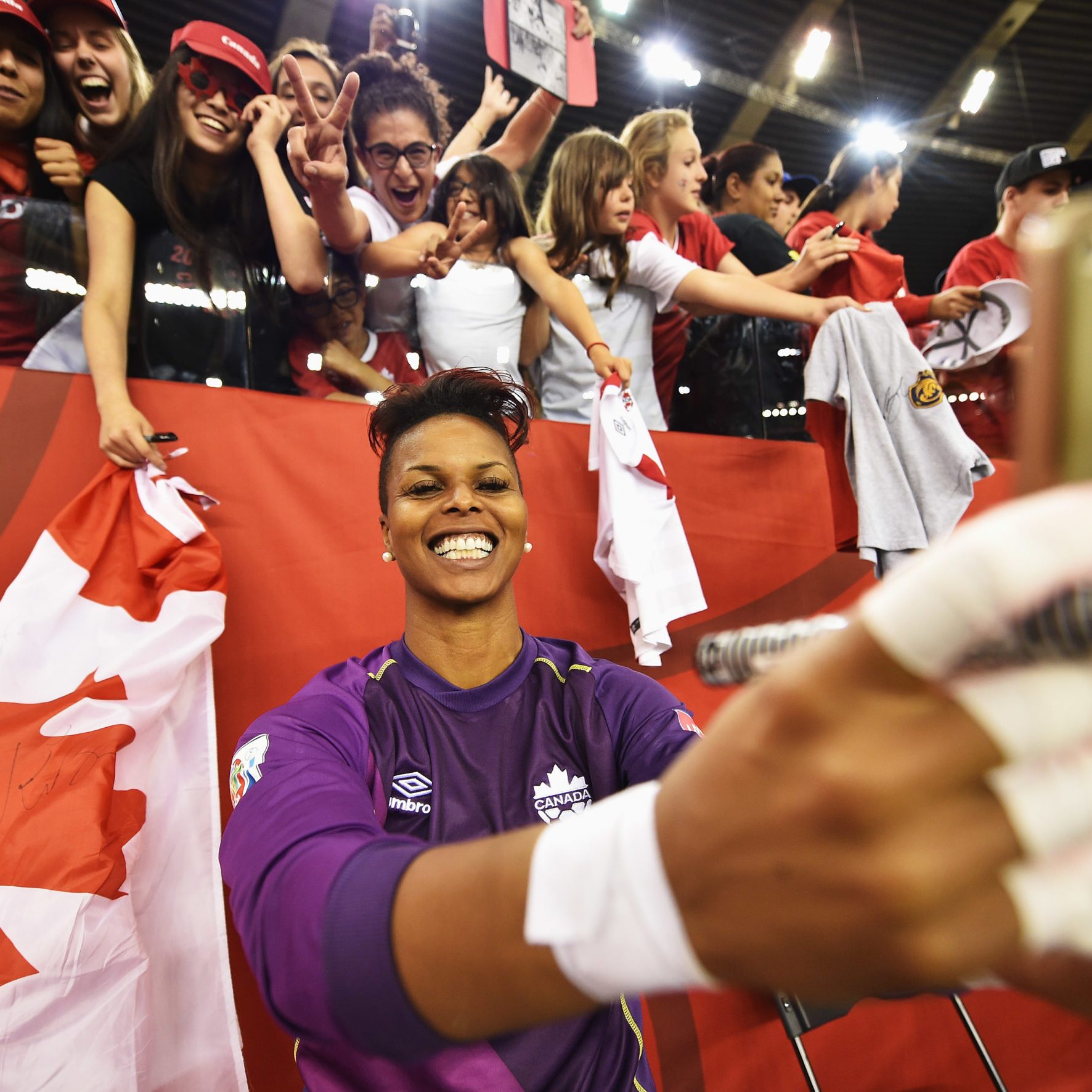 Karina LeBlanc, Soccer
1993 and 1994 BC Summer Games
2012 Olympic Bronze medalist
Two-time Olympian
Four FIFA World Cup appearances
2012 Olympic Bronze Medallist
1993 & 1994 BC Summer Games
Karina lived the first eight years of her life on the small Caribbean Island of Dominica, before immigrating to Canada and residing in Maple Ridge, BC. Karina grew up playing soccer, basketball, field hockey and track. Although soccer later proved to be her passion, she played basketball at the 1993 and 1994 BC Summer Games.
Throughout Karina's soccer career she represented Canada in four FIFA Women's World Cups, three Pan American Games, and two Olympic Games in 2008 and 2012. She was one of the goalkeepers on the 2012 Olympic team in London that brought home the historical bronze medal win for the women's soccer team.
Aside from her soccer successes, Karina is the first female footballer to become an official Ambassador with UNICEF Canada. She is an inspiring role model and motivator, hoping to share her love of soccer and make a different in the lives of others.
Check out Karina's profile on Olympic.ca, visit her website karinaleblanc.com, her UNICEF profile unicef.ca/en/partners/article/karina-leblanc, and follow her on Twitter and Instagram @karinaleblanc.
Photo Credit: Soccer Canada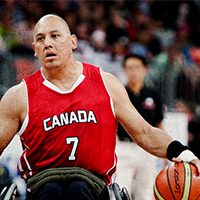 Richard Peter, Wheelchair Basketball
1992 and 1993 BC Winter Games
Four-time Paralympian
Gold Medalist 2000, 2004 and 2012 Paralympic Games
Silver Medalist 2008 Paralympic Games
2006 World Championship
2000, 2004, 2008 and 2012 Paralympic Medallist
1992 and 1993 BC Winter Games
Richard was born in Duncan, BC, and a proud member of the Cowichan Tribes. Also known as Bear, Richard suffered a spinal cord injury after a bus accident when he was four years old. Throughout the many challenges that he faced, his family and community were always there to support him.
He had an interest in sports but he wasn't introduced to wheelchair basketball until a touring team came to his school when he was 15 years old. He played in a scrimmage with the team in front of the whole school and his talent caught their attention. Shortly after, he was invited to train with them in Victoria.
Richard participated in the 1992 and 1993 BC Winter Games, and just a year later debuted on the national team. He helped Canada bring home three gold's during the 2000, 2004, and 2012 Paralympic Games. At the Beijing 2008 Games they won a silver medal. Richard has also won the world championship title in 2006, and led Team BC to the national championship six times. He also played professionally in Germany for club RSV Lahn-Dill.
He has received the Tom Longboat National Award for Aboriginal Male Athlete of the Year, Wheelchair Basketball Canada's Male Athlete of the Year, National Aboriginal Achievement Award, and has been inducted into the BC Sports Hall of Fame. Known for his dedication, focus and sportsmanship on the court, Richard is an ambassador for the sport and a mentor to young players off the court as well.
See Richard's full bio on Wheelchair Basketball Canada's website and at Paralympic.ca.
Photo Credit: Wheelchair Basketball Canada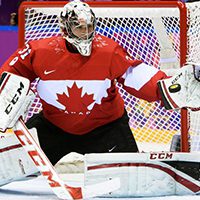 Carey Price, Hockey
2002 BC Winter Games
2014 Olympic Gold Medalist
NHL Montreal Canadians
2014 Olympic Medallist
NHL Montreal Canadiens
2002 BC Winter Games
Raised in the rural community of Anahim Lake, BC, Carey learned to skate on a frozen river. His father, who played hockey professionally and was drafted by the NHL's Philadelphia Flyers, passed down his love of hockey to Carey.
Anaheim didn't have an indoor arena or hockey program so his father taught him to play goaltender on a frozen creek during the winter months. In order to play organized hockey, Carey and his father would drive or fly the 640 km round trip to Williams Lake three times a week.
Carey's talents started to show during his participation in the 2002 BC Games, and a couple years later he helped Canada win a silver medal at the 2005 IIHF Under-18 World Championship. Canada again won gold at the 2007 IIHF World Junior Championship and Carey was awarded tournament MVP.
His dream of playing in the NHL was starting to become reality in 2005 when Carey was drafted to the Montreal Canadiens. He made the roster as the back-up goaltender in the 2007-08 season and early in the season became the starting goaltender, leading the rookie goaltenders in wins, saves and shutouts. Carey represented Canada at the 2014 Sochi Olympic Games and brought home a gold medal for his country.
In 2015, Carey's incredible season was recognized when he swept the NHL awards becoming the first goalie in history to take four awards. Price took home the Hart Trophy as the NHL's most valuable player, the Vezina Trophy as the League's best goalie and the Ted Lindsay Award for the most outstanding player as voted by the players. Price also received a share of the William M. Jennings Trophy with Corey Crawford of the Chicago Blackhawks as the goalies on the teams that allowed the fewest goals in the regular season (189).
Carey and his wife, Angela, enjoy working with the charities they are passionate about. He is the Ambassador to First Nations kids through Breakfast Club Canada, an initiative providing meals to children in Anahim, and supports the Carson Kolzig Foundation, helping families of children with autism.
Check out his profile on Olympic.ca, and follow him on Twitter @CP0031.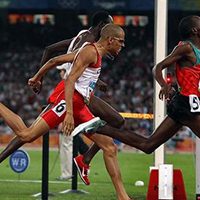 Gary Reed, Athletics
1996 BC Summer Games
2004 and 2008 Canadian Olympic Team
2004 and 2008 Canadian Olympic Team
1996 BC Summer Games
Gary Reed is one of Canada's most successful middle distance runners with multiple Canadian records, a silver medal from the 2007 World Championships and a fourth place finish at the 2008 Olympics.
It was the influence of great coaches in his hometown of Kamloops that started it all.  Gary attended the 1996 BC Summer Games in Trail, where he remembers being with his track team and following the action from the 1996 Olympic Games that were taking place at the same time.  In the basement of the BC Games accommodation site, a TV had been set up and he and his team watched Donovan Bailey win gold for Canada in the 100 meters.
"It was intense but a great sense of pride for all of us being with the track team and at the BC Games."
Looking back on his success it was all the experiences along the way that made the difference.
"My experience at the BC Summer Games was crucial and critical to performing well later at the Canada Games and then the Olympics.  It was exciting and exhilarating and gave me a crazy boost of motivation to continue forward."
Gary is now retired from competition but stays close to the world of athletics through the Reed Athletics Fund that he created to financially supports Canadian Olympic hopefuls in the sport of track and field.
Gary has returned to his roots and now lives in Kamloops with his wife and two young daughters.  Check out his website.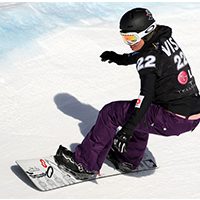 Maelle Ricker, Snowboard
1992 and 1993 BC Summer Games
2010 Olympic Gold Medallist
2010 Olympic Gold Medallist
1992 and 1993 BC Summer Games
Growing up on Vancouver's North Shore, being involved in sport and physical activity was part of Maëlle Rickers' world.  She was a multi-sport athlete involved in soccer, basketball, field hockey and track and field.  It was on the track that she experienced her first multi-sport Games at the 1992 and 1993 BC Summer Games.
Her love of the mountains won her over and she quickly became an elite athlete in snowboarding competing at her first Olympics at the age of 19 in Nagano.  After missing the 2002 Olympics due to injury she returned in 2006 only to crash in the final.  It was in her backyard at the 2010 Olympic Winter Games when Maëlle made her mark winning gold and becoming the first Canadian female athlete to ever win gold on home soil.  She continues to dominate in snowboard cross winning the 2013 World Championships and will be part of the Canadian team in Sochi in 2014.
"I went to the 1992 and 1993 BC Summer Games where I learned the importance of leadership, teamwork, and hard work.  The coaches and support staff were outstanding and the atmosphere of being around athletes from a variety of sports was unreal. Wearing the official BC uniform, walking in the parade, sleeping in classrooms at the designated schools, and finally racing on the track against my competitors are a few of my found memories. The countless hours of training that I put in to earn a spot on the BC team was a huge deal. I learned to set goal realistically, to eat properly, to train smartly, and to perform optimally when the pressure was on.  These skills learned from the BC Games were not just track and field skills. They are all life skills that have helped me stand on top of the podium at the 2010 Olympics and helped me be the person I am today."
Check out Maelle's profile on Olympic.ca, follow her on Twitter @maellericker, and check out this story.
Have a look at the video Maelle filmed for the BC Games athletes shortly after her win in Vancouver.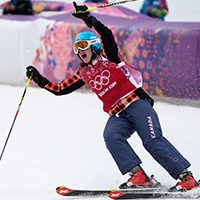 Kelsey Serwa, Ski Cross
2002 BC Winter Games
Three time Canadian Olympian
2018 Olympic Gold medalist
2014 Olympic Silver medalist
2011 World Champion
Two-time X Games Champion
2002 BC Winter Games
2010, 2014 and 2016 Canadian Olympic Team
Kelsey Serwa grew up skiing at Big White Ski Resort in Kelowna, a mountain that her grandfather co-founded in the 1960's.  Ski racing naturally became a passion for Kelsey and led her to compete at the 2002 BC Winter Games in Williams Lake.
She was a member of the National Development Alpine Ski team until 2008 when she made the leap to the emerging sport of Ski Cross.  She quickly became a dominant force on the World Cup circuit taking her first win in 2010 and now has 16 World Cup podium finishes including gold at the 2011 World Championships.  A member of the Canadian Olympic Team in 2010 she won a silver medal at the 2014 Olympic Winter Games and a gold medal at the 2018 Olympic Winter Games.
"The BC Games in 2002 was my first multi-sport competition with athletes participating from all over the province. It was a real eye-opener! The Games gave me the opportunity to create life-lasting friendships with racers that started as only being my competition.  Over the many years, fellow BC Gamer Georgia Simmerling and I have pushed each other to become better athletes and now race on the World Cup Ski Cross circuit together."
Kelsey has had her share of adversity coming back from two knee injuries in consecutive seasons.  While she was off rehabbing her first knee injury, we were lucky enough to have her visit the 2012 BC Winter Games and present medals to the next generation ski racers.  Kelsey was the Team Captain for Team BC at the 2015 Canada Winter Games.

Check out Kelsey's profile on Olympic.ca, follow her on Twitter @kelseyserwa, visit her website, and check out the story below from Alpine Canada.